About Author: Hi, I'm Kate 👋 I'm a Lactation Educator Counselor and the founder of Mighty Milk, a Baby Registry Certified Expert, and a mom of 2. I share info that helped me go from struggling with breastfeeding and pumping to thriving with both!
Are you wondering about the benefits of breastfeeding your baby? Human milk is truly incredible. After all, it has literally sustained human life for millennia. Whether you're nursing or you're pumping, here are a few of the major benefits.
Your breast milk is the best source of nutrition for your baby.  It contains the perfect combination of proteins, fats, carbohydrates, vitamins, and minerals. As your baby grows, your milk will change to meet your baby's nutritional needs.
Your milk contains antibodies that help protect your baby from illness and infection. It is easily digestable, reducing the chances of gastrointestinal issues. It promotes the growth of beneficial gut bacteria, establishing a healthy gut microbiome. It lowers the risk of chronic disease for your baby over the course of their lifetime.
If you are nursing, breastfeeding means that you can feed your baby any time, anywhere, with no parts to clean, and nothing to keep sanitary. In your home, in your car, in a restaurant- wherever your baby is hungry, or needs comfort, you have everything you need.
Breastfeeding can reduce your risk of breast and ovarian cancer, type 2 diabetes, and high blood pressure. It may also reduce the risk of postpartum depression.
And the cool thing is, scientists are really just beginning to unlock the secrets of human milk. Even recently, the presence of stem cells were discovered in milk. These cells are being researched as possible cures for a range of diseases. There's still so much that we don't know about the magic of human milk. 
But perhaps the biggest benefit of breastfeeding doesn't have to do with any one amazing fact or figure. For many parents, the biggest benefit of breastfeeding is a feeling. It's a feeling that comes from holding your baby close to you, your two bodies together. It can hit you again and again as your baby grows. It's an intimacy and a relationship that's not unlike anything else in this world. So I could throw facts at you all day about the benefits of breastfeeding, but in the end, sometimes the greatest benefits can hardly be described and can only be experienced. 
Whether you are an expectant parent, or you're holding your baby in your arms, know that no matter your reason for wanting to breastfeed your baby, it is the right reason. 
But even though breastfeeding has incredible lifelong benefits, it can still be hard for so many parents. But you don't need to sit there feeling helpless or clueless. You need steps to help get breastfeeding off to the best possible start.
Can you imagine what a difference it would make for your postpartum life if breastfeeding was going well, and you felt confident and calm?
One thing that is not talked about enough is how much of an outsized role breastfeeding plays in postpartum life. Feeding your baby IS postpartum life. If you're a first time mom, maybe you were like me and imagined peacefully rocking your baby in their adorable nursery, everything quiet and calm. But the reality for so many of us is so different. Because when breastfeeding isn't going well, it can color EVERYTHING. It can impact how you feel about your transition to motherhood. How you feel about your partner. How you feel about your life. But the opposite can also be true. When breastfeeding is going smoothly, the anxiety quiets. The stress and overwhelms drops. Sure, you'll still be tired and underslept, and you still probably have dishes piling up in the sink, but when you have this confidence, it is a huge shift. And it can make all the difference how you are able to adjust to your new life with your baby.
Maybe you'll cross your fingers and hope that breastfeeding will go well. Or maybe you'll comb through Youtube videos or social media groups, trying to piece together advice. But who knows how trustworthy that information will be, and whether it will actually help you. OR you can make the choice to invest in your breastfeeding relationship by following the guidance of an IBCLC who has helped hundreds of families overcome breastfeeding challenges and reach their goals. All of this in just one class, with a few hours of video that can make the difference between whether or not you're able to reach your breastfeeding goals.
My breastfeeding journey with my babies inspired me to help other families avoid the frustration and difficulty that I felt. I teamed up with the amazing lactation consultant who was literally life changing for me and my family. She is why I was able to breastfeed my second baby successfully. She has worked with hundreds of families reach their feeding goals and now she can help you, too. 
I want to invite you to Mighty Milk's Breastfeeding for Expectant class (we also offer a class called Breastfeeding Your Baby for parents of babies 0-12 weeks who are struggling with breastfeeding.) This class is exactly all of the information that helped me have a successful breastfeeding relationship. And it made a huge difference in helping me have a happier, less stressful transition to postpartum life than I did with my first baby. The class is broken  down into short videos that you can watch all at once or over time. So you can change the course of your postpartum life, just by sitting on your couch for an hour or two. And you can grab your partner and watch together, since their support plays an important role in your breastfeeding success.
In this course you'll learn:
What's normal with a breastfed baby
All about building your milk supply
How to position your baby to avoid nipple pain
How to tell if your baby is hungry
How to tell if your baby is swallowing
How you can tell when breastfeeding is going well—and when to get help
Tips for maximizing nighttime sleep
How to get started with pumping and bottle feeding
Adjusting to life with a breastfed baby
How to get out of the house
Nutrition, coffee, alcohol, and medication
And so much more
Our classes are rated 5/5 stars on Facebook from parents that have been in your shoes.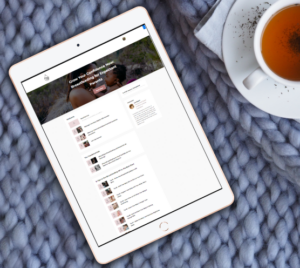 I want to make this extra easy for you. I want you to succeed. I want you to be able to have a rewarding breastfeeding relationship, by the way that includes pumping, for as long as you would like. So I'm offering a guarantee. If you finish the class and you're not satisfied, let me know, and I'll make it right. Even if you've taken a breastfeeding class at your hospital, take this class. I took one with my first baby and it didn't teach me in the way I needed to learn. Mighty Milk's class is different. You have nothing to lose and everything to gain. 
Click here to sign up and boost your confidence starting immediately. Hope to see you inside!