A Unique Gift for Expectant Moms
an online video breastfeeding class rated 5 stars by parents
A Unique Gift for Expectant Moms
an online video breastfeeding class rated 5 stars by parents
 The Gift that Gives Lifelong Health Benefits
Breastfeeding for Expectant Parents is an online, on-demand class for expectant parents that they can watch on their own schedule, from the comfort of their couch. It's like Netflix for breastfeeding! Nursing can be a uniquely soul-nourishing experience with lifelong benefits for both mother and baby. But without guidance, many new parents find themselves underprepared and overwhelmed. This class helps mom get breastfeeding off to the best possible start from the moment her baby is born. Send a gift card immediately, or buy now and send later.
Breastfeeding for Expectant Parents is perfect for your gift recipient if:
She's rarely or never seen a newborn breastfeed.
She doesn't know how often to feed her baby.
She's not sure how to tell if her baby is getting enough milk.
She wants to learn signs she should seek 1:1 professional help.
She feels nervous about breastfeeding or would like to grow her confidence.
Free Class Chapter
One out of over 20 in the full class.
Watch This Free Class Chapter
What She Gets
Breastfeeding for Expectant Parents is taught by an International Board Certified Lactation Consultant and includes approximately 90 minutes of video that will give mom clear guidance and practical tips.
Learn the many benefits of breastfeeding. Start your journey feeling inspired by the lifelong health benefits breastfeeding and breastmilk provides for both baby and mom.
Understand why so many new mothers struggle to breastfeed. We explain why many moms have challenges, and help set you up for success with 10 easy-to-follow tips.
Know what to do from the moment your baby is born. We'll tell you everything you need to know about skin to skin, positioning baby, latch, and beyond.
Find out how often and when to feed your baby. We're going to tell you why looking at your baby instead of the at clock is super important.
Feel confident that your baby is getting plenty of milk. You'll learn what it looks like when breastfeeding is going well—and signs you should get help.
Get the lowdown on nutrition, coffee, and alcohol. We give you evidence-based information that empowers you to make informed decisions that are right for you and your baby.
Build confidence. You've got this!
Rated Five Stars on Facebook
"I got this class as a gift for my baby shower. I probably wouldn't have read a breastfeeding book, but watching this class with my husband was actually really enjoyable and I learned so much I wasn't aware of. Every video was full of helpful tips and information and we finished the class in one night. I feel much more confident."
Jill B – Los Angeles, CA
Rated Five Stars on Facebook
"This class is not the cheapest. There are tons of Youtube videos and Facebook groups and websites out there. But you get what you pay for. If you are committed to breastfeeding, this info is what you need. Lex gives you super important tips that actually make a difference."
Leah H – Ann Arbor, MI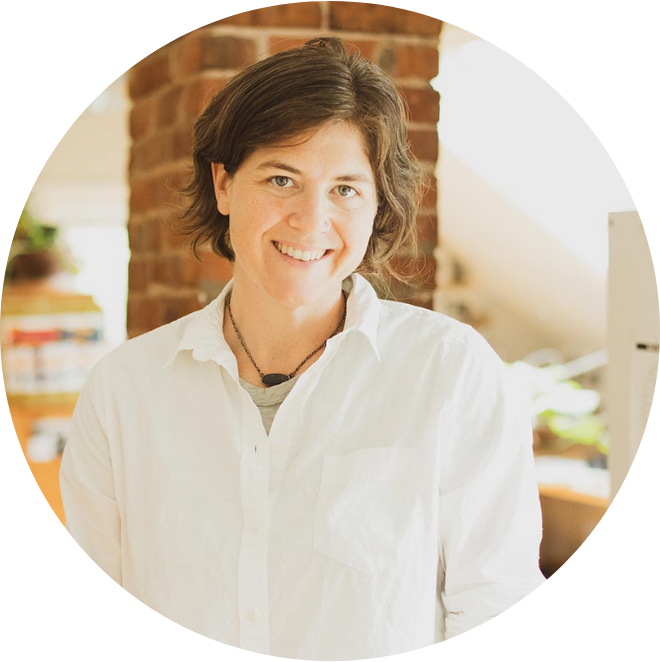 Meet Your Instructor
Lex Beach is an International Board Certified Lactation Consultant and mother to seven children. She has helped hundreds of newborns and new parents establish successful and rewarding nursing and feeding relationships.
No Judgement
There's no wrong way to breastfeed.
We're here to offer knowledge that empowers you to make the best decisions for you and your baby.
No Assumptions
No two families are exactly alike.
There's no wrong way to be a family. We honor diversity in all forms and value every parent and child.
No Sketchy Info
Expertise and experience matter.
Have peace of mind knowing that you're learning from an International Board Certified Lactation Consultant.
Make Those Early Days Easier
Follow this three-step plan.
Step 1
Take the class at any point during pregnancy.
Step 2
Feel more confident and knowledgeable.
Step 3
Apply the lessons starting at birth!
At what point during pregnancy is the best time to take this class?
This class is an excellent gift for any point in a mother's pregnancy! Gifting it during the second trimester is an especially ideal time, as the parents can brush up again closer to their due date if they want a refresher.
How does the giftcard work?
After you check out, you'll immediately receive an email that you can forward to the recipient at any time with special instructions and a log in code. If you would rather hand it to them, you can print out the confirmation email and give it in person or mail it. It's the perfect gift, whether last minute or not!
Is this class good for both first time and second or third time mothers?
Absolutely. Most of our customers are first time parents, but we have many who are not first timers, and who had a difficult time breastfeeding with their first child. The feedback on the class we get from these parents is very positive.
I'm not sure my gift recipient definitely wants to breastfeed. What happens if not?
If you find out that your gift recipient is not planning on breastfeeding or pumping, and is going to exclusively use formula, you can contact us for a full refund! However, our class has inspired some parents who were not planning to breastfeed to give it a try.
Two Prices, Same Exact Product
We want to be able to help as many families as possible, so we've added a new pricing option. This applies to gift cards, too!
Ready to give the gift of a successful and rewarding breastfeeding journey?