If you are pregnant or a new parent, I probably don't need to tell you that you are going to be bombarded with ads on social media for all sorts of baby-related products. But one of the coolest things about breastfeeding is that you don't need to buy anything for it to work exactly as designed. No purchase is required for you to bring your baby to your body, and feed them anytime, anywhere. But you know somebody is aching to make a dime off of you anyway.
So let's talk about lactation cookies for a moment. If you walk into Target or any similar store, you'll see a pretty big section of an aisle in the baby-care section dedicated to "milk-boosting" products. Here's a pic I snapped at my Target, with lactation cookies, smoothie mix, and granola bars, to name a few.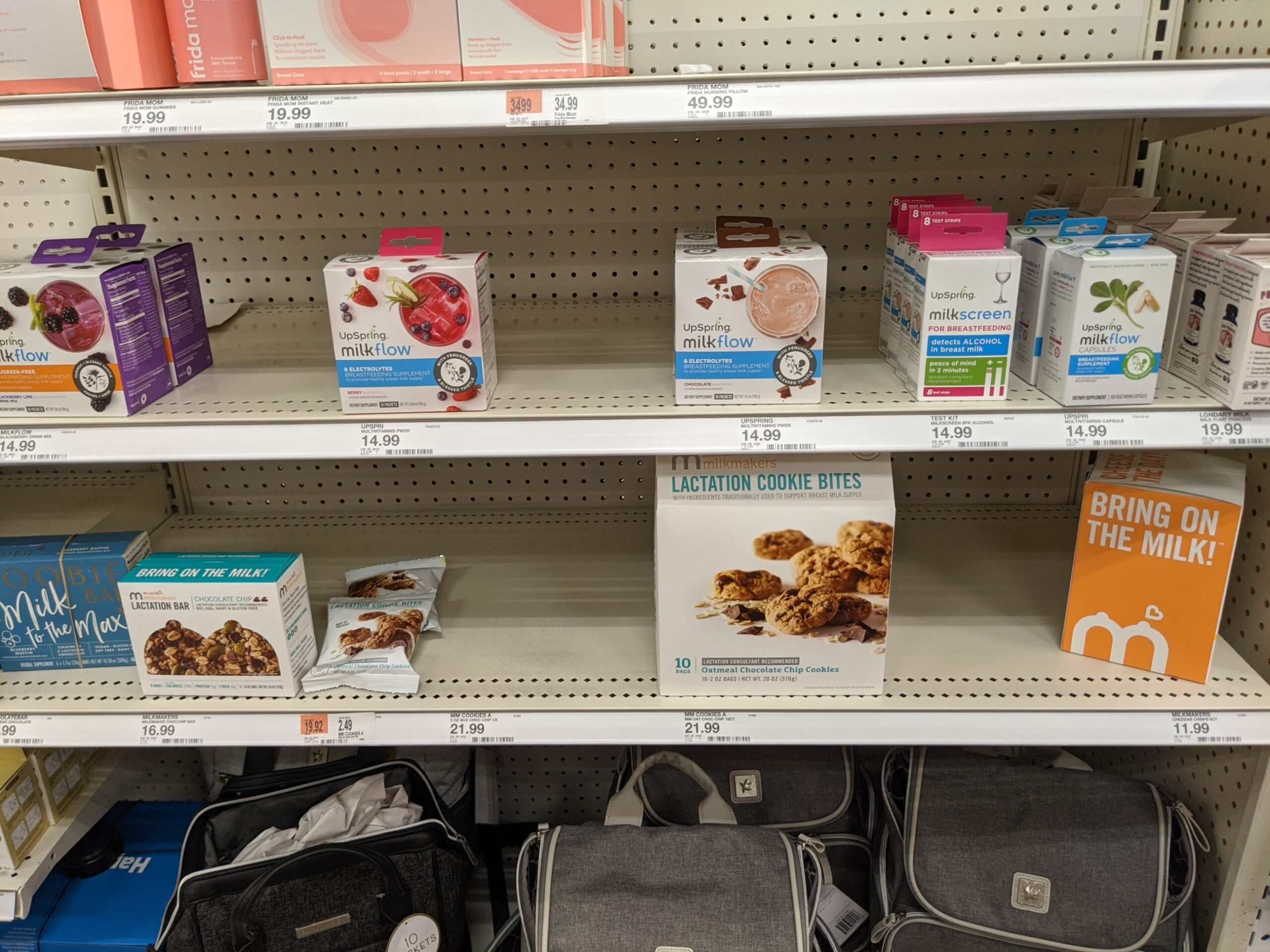 You might be thinking, would could be the harm with some cookies or brownies that claim to boost your milk supply? How could this be a bad thing? I'm glad you asked 😉

Many mothers in our culture believe that they have a low milk supply, even though the vast majority of them are capable of making plenty of milk for their babies. This is a real condition, and it even has a name–perceived low milk supply. The problem is, the perception of low milk supply is one of the reasons that mothers give for giving up on breastfeeding–even if they did not want to do so.

Just go on any breastfeeding social media group and you'll see a million posts with mothers searching for recommendations for milk-boosting pink drinks, tinctures, and cookies/brownies. But these products aren't clinically proven to boost milk supply. Products that sew doubt in mothers minds about their supply is troublesome, especially when the companies that sell them stand to make a nice profit. There's a whole industry that is successful only when it can convince mothers that their bodies are broken, and only work when they purchase a product.

And here's the real problem: If you are truly struggling with low supply, or even if you are just concerned that you are, lactation cookies and brownies are not the solution. The solution is educating yourself and reaching out for personalized help from an IBCLC if needed.

In Mighty Milk's Breastfeeding for Expectant Parents and Breastfeeding Your Baby 0-12 Weeks classes, Lex teaches you about this in the chapter Is There Anything You Can Eat Or Drink to Boost Your Supply? Log in now to watch.

Far more effective in building a good milk supply than any product you can go out and buy is understanding the basics of milk production. Feeding your baby very frequently is the foundation of establishing and protecting your milk supply.

Oh, and if you want to buy or bake a lactation cookie or brownie–go for it. Cookies are delicious. But know that you don't need to buy something in a box in the baby aisle at Target to be able to make enough milk for your baby.

Want to learn everything you need to know about building the best possible milk supply? Do you want more information on nutrition while breastfeeding, and also caffeine, alcohol, and medication? Want to know what the deal is with "pump and dump?" Lex teaches you all of this and so much more in our Breastfeeding Your Baby (0-12 Weeks) class.

Getting our classes) are an excellent way to support our small woman owned biz while also boosting your breastfeeding confidence in a big way. They are FSA/HSA eligible and backed by a 30 day guarantee, so you have nothing to lose.